Big Wet Butts presents: Trina Michaels fucks the peeping toms big hard dick
Scene Title: Big Butt Peeping Tom
Storyline: Trina was having a nice relaxing day outside in the sun , when all of a sudden she spotted a peeping tom in the bushes. She was very much disgusted with this man but after a while she opened up to him and let him fuck her in all of her holes. After he oiled up that booty, he was officially her sex toy but don't get me wrong he also abused his power.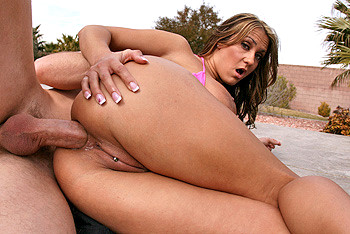 Trina Michaels BigWetButts HD Video Trailer
What people are saying about: Trina Michaels - Big Butt Peeping Tom bigwebutts scene
Comment #1
FinnMcCool said: Another terrific scene from Trina. She is one of the best ass-fucks in the jizz bizz - pretty face, big tits, ripe, plump ass that can take cock all day long and a genuinely nasty attitude.
Comment #2
whaler87 said: Trina, is so hot!!! Story concept is ridiculous!!! Just put away the friggin oil. The oil thing is just so retarded!!!!!
Comment #3
YungRedd713 said: This big wet butts scene was absolute amazing, definitely a 10/10. And anybody who doesn't agree, should just go kill themselves. Maybe I'm being partial because Trina is definitely among my top 5 favorite pornstars. But she is just so perfect from head-to-toe (literally!) Everything about her is just absolute amazing. And that body alone is to die for. I'd love to have one night with Trina, because she is so damn sexy and she'll do just about anything!!
Comment #4
zeboking1 said: O wow, this was great: Good foreplay and good fucking. Jordan kept his dick hard and Trina worked that ass beautifully on that dick. This could have gotten a ten (10) if it were not for the damn trench coat and funky tennis shoes. Camera had good angels, but did not keep those ugly tennis shoes out of the scene. Loved how Trina grinded that ass vs pounding.. I rated this a (9). I just love it when beautiful ladies can grind fuck a dick. Love you Trina. Wish I could fuck you. :)~~~ mmm lick Trina's ass.
Comment #5
robb201 said: Hmm...ok, this is sort of tough to review here. Trina is a average looking chick, don't mind watching her scenes, loved the piercing. However, for a Big Wet Butts scene, she didn't have much butt. From certain angles, she looked to have a nice butt, but that's not good for Big Wet Butts, because you have less angles to shoot from. When she stood up straight, she looked like she have very little ass or possibly a flat ass, depending on how people want to look at it. I appreciate the fact that she did anal, that's always a plus in a girl. I thought the trench coat was lame. The begging, although a hot concept, it just appeared like it was scripted coming from Jordan. Some more editing problems, don't know how you guys can not get that shit straight yet. I could train a monkey to edit a scene better than you guys. Overall, decent, but nothing special. 7/10
Trina Michaels BigWetButts Picture Gallery