Big Wet Butts presents: Mya Nichole performs the ass massage and recieves a chillin good poundage for it
Storyline: Scott has been suffering from back and neck pain for a while so he finally decided to get a masseuse to give him a relaxing massage. What he doesn't know is that Mya is known for providing the best muscle pain relief in town, the world's renowned "ass therapy", known to rehabilitate the dead and cure any sickness…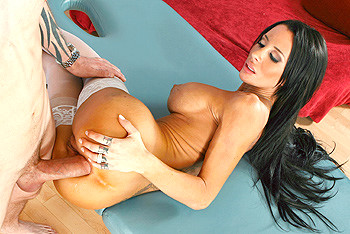 Mya Nichole BigWetButts HD Video Trailer
What people are saying about: Mya Nichole - Ass Therapy bigwebutts scene
Comment #1
chachacha1 said: skinny with big boobs is sexy. Same category as Danielle Derrick. Slutty sexy.
Comment #2
dcava1231 said: She is beautiful and has a great ASS. Luv those stockings on her. She swolled his whole dick, what a great women. Keep up the good work and show us more stocking and heels.
Comment #3
titty2 said: Mya you little slut. Your body is amazing. I love the way you suck cock, and I love seeing your pussy and ass get strecthed by long cock. Hope to see another scene soon.
Comment #4
Petermc3 said: Amazing big wet butts scene, immediate dl and 10/10. She has lost a little weight but her ass still looked amazing in doggy. By the way if any directors are reading this, that is how you shoot doggy style sex none of this shot from underneath bullshit. Those moaning about the creampie, I was under the impression a creampie was when the guy comes inside her ass/pussy not an external comeshot on her ass. Also noticed a couple of comments regarding why the reverse cowgirl position on the photo was not in the scene, this happens too much on Brazzers. In this case though I wasn't bothered as it is an ass site and reverse cowgirl doesn't show off the girls ass at all.
Comment #5
KJ2885 said: this chick is so fuckin hot and is a champ at deepthroating...she took his whole cock without gaging....fuckin hot body i came three times in one jerkoff session her tits are perfect and her asshole and pussy look so yummy...i would rail her over and over than blow my load in her face and down her throat..she does the best anal on this site..
Mya Nichole BigWetButts Picture Gallery