Big Wet Butts presents: Three of the hottest asses in the biz slammed by two hungry cocks
Scene Title: Big Butt Contest
Storyline: Attention big butt lovers!!! This update will make you cream your pants! Not only do we have probably 3 of the best asses right now but they get fucked very hard by two guys and yes fellas, it is ANAL. This scene blew me away. The hottest bwb scene since the Alexis and Briana. Watch out you might blow a hole in the ceiling.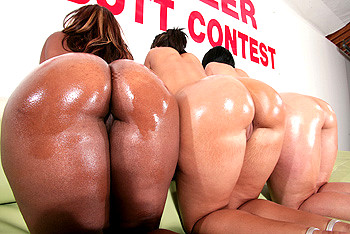 Sinnamon Love, Ricki White, Luscious Lopez BigWetButts HD Video Trailer
What people are saying about: Sinnamon Love, Ricki White, Luscious Lopez - Big Butt Contest bigwebutts scene
Comment #1
ilovesluts said: This big wet butts scene was amazing!!! The way the girls went from jean shorts to pink shorts was excellent...i personally like all that butt shaking!!! Extra points to Ricki's tan lines...those do it for me all day ...LETS GET A BIG BUTT CONTEST 2 WITH DIFFERENT CHICKS....A++++++
Comment #2
robb201 said: Ok, we have the cute Ricki White and two ugly chicks. Luscious need a nose job, other than that her body isn't too bad. Sinnamon is just plain ugly, and the gap between those teeth didn't help much either. The scenario was stupid, didn't take much thought to come up with. The booty shaking did last a little too long. I would have just done one in the booty shorts and one in the thong. You didn't need 3 dances. Plus they pretty much did the same in each dance, so it got pretty old, pretty fast. I would have rather seen Ricki White, Brianna Love, Alexis Texas and/or Jenny Hendrix paired up. 6/10
Comment #3
aaronu1 said: Negative comments??..Hot chicks.. dicks..fucking and sucking....throw in the sexy booty shaking we all love and crave...omg..what do you people want???..relax .....get the lube out out .....and use your brain and your dick to see that this video is excellent...quite whining ..no such thing as bad porno....keep giving us the the beautiful ladies, Brazzers..we love this stuff!!!
Comment #4
Go_Broncos said: This was a pretty hot scene Brazzers! The girls all had great asses. I have always liked Luscious Lopez, but am really digging Ricki White as of late! There are so many hot chicks on this site that would be perfect for a best ass competition like that, it got me to thinking. Rachel Starr would have been a no brainer for that scene! I just wanted to throw it out there and see, which pornstars on this site are the other members favorites based on best ass. Which would you guys choose if all of the girls were included?
Comment #5
MissSnoogans! said: I was so happy when I first saw the trailer. Then the action started and I was all into it. Then I saw the same bullshit three times in a row. All three of the ladies have great looking asses without a doubt. That's great Brazzers can produce their own music but damn how about some real tunes. I'm telling you this now. You need to have your best camera person when working with five people. This camera work was below shitty. Someone needs a severe kick in the nuts for that shit. If the Brazzers Court scene is like this then scrap that fucker now. My Friday was ruined by bad script, setup, and awful camera work. Who the fuck was the asshole talkin cash shit to the chicks? I just wanted to smash that asshole. I would tell my ideas for a better scene but it doesn't matter cause it won't be done again. 1 awful dried up puss, Snoogans!
Sinnamon Love, Ricki White, Luscious Lopez BigWetButts Picture Gallery