Big Wet Butts presents: Wild Animals Devon and Savannah fucked by their predators big hard cock
Scene Title: The Big Booty Hunter
Storyline: Big Booty Hunter Gunn is on the hunt today for Big Booty. In his trek through the wild jungle he comes across two beautiful big booty specimens. His purpose was to simply find big booty but he ends being mesmerized by the booty and starts to worship their asses and even proceeds to do anal!!Realizing that he may have gone too far, he tries to retreat but it was too late!!The two specimens now craved for more anal and he had no choice but to give it to them deep and hard!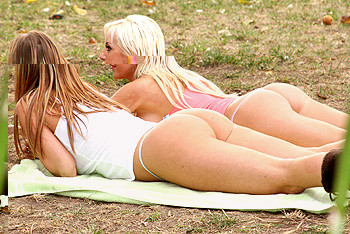 Savanah Gold and Devon Lee BigWetButts HD Video Trailer
What people are saying about: Savanah Gold and Devon Lee - The Big Booty Hunter bigwebutts scene
Comment #1
bosomlover said: Savannha and Devon step up and hit yet another home run. Enjoyed the story line. Funny and creative. The anal was a nice suprise, but then after watching the whole scene, I realized, they dont get one sigle inch in their pussys. He enjoys there tight little assholes throughout the entire scene. Also liked Tommy in this episode. I like his short but stout cock and fat balls. He is one of the few true porn pros.
Comment #2
EdgardoJose said: Definetely this two beautiful ladies Savannah Gold and Devon Lee are pure dynamite; I'd like to see the two of them more often. Scene could have been perfect if the two of them would have gotten more into each other; that would have made a much hotter scene.
Comment #3
On February 05, 2008 at 3:57 AM, robb201 said: Ok, this big wet butts video was decent...I liked the creativity in the storyline, and Tommy did his "crocodile hunter" role pretty good. I liked the anal, however, as much as I love anal, it would have been nice to have some vaginal intercourse too. The girls were hot and it is a decent combination. The thing I liked about this scene was Savannnah didn't talk much, any accent irritates me. I would have liked the girls to seem more into each other...they didn't get too "rough" with each other. It was mostly "soft" touching between them. I liked the fact that Savannah had Devon eat her out, however, it was too short and she had way too much room between her pussy and her mouth. Savannah's pussy should look like it's giving Devon mouth to mouth. Good, but could have been better. 8/10
Comment #4
MissSnoogans! said: Tommy pulled off the Outback Jack look well. Bravo and Kudos to Tommy Gunn and the Brazzers people for putting together a great scene. I love the fact that he did a great job of talking as the camera just kept rolling. The girls didn't have to do much and I'm sure they love that. Nothing better than getting laid and taking it easy. Devon has such the quintessential body from her hair to her toes. Savannah is a great ass whore. She had no problem taking it in the ass. I very solid week by you guys. love what you are doing. 2 erect nips, Snoogans!
Comment #5
766 said: WOW - this a 10+ scene - every time you have Devon Lee doing an anal scene, you know is going to be HOT - any scene with her is a 10+ but when she does anal is just so much better....... Brazzers guys need to understand that stars like Devon Lee, Carmen Kinsley, Jayden James & Kayla Synz are always going to do GREAT scenes - Please keep having them back at all times - They always going to give a 10+ performance - especially when they do anal scenes - keep up the good work on having stars like Devon Lee doing HOT anal scenes
Savanah Gold and Devon Lee BigWetButts Picture Gallery