Big Wet Butts presents: Rucca Page takes on a massive dick and gets pummeled by it
Scene Title: Ass Fucking Rucca
Storyline: Rucca is the next slut to get her ass oiled up and fucked here on BWB! Man does she like it rough...titty slapping, choking and ass gaping are all of her specialties! Watch that shiny butt get pounded and drenched in cum all for your viewing pleasure!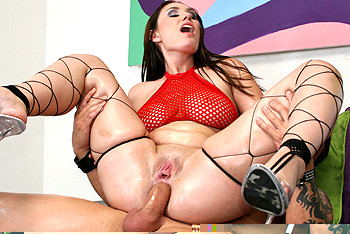 Rucca Page BigWetButts Picture Gallery
What people are saying about: Rucca Page - Ass Fucking Rucca bigwebutts scene
Comment #1
Budapest1 said: Wooooooooooha hold on guys, getting your ass licked is awsome and a nice big vibe up the ass as you stroke or get sucked is fucking awesome. A mans G-Spot is one nuckle inside....try it and I am sure you would like it. Plus you get the same feeling as a woman getting ass fucked, chances are if you do not like it then why would your woman, if you want to feel what she feels when you do anal give it a shot... or are you a whimp Cheers
Comment #2
blitzside said: Asslicking isn't gay. But this is the best scene on the entire site.
Comment #3
Balder said: Very nice, natural and horny woman.
Comment #4
iigreatoneii said: Forgot to meantion that she looked twice as hot in her Busty And Real scene. She should go back to that look.
Comment #5
MissSnoogans! said: Rucca love you natural titties. Get rid of the jelly belly. Kurt you are letting me down. You haven't been the same since Julia Bond. People complained about Ava & Sophia. Rucca was only looking for the paycheck. Kurt get some vitamins your cum looks weak. Snoogans!