Big Wet Butts presents: Melissa Lauren taking a cooking ass fucking lesson
Scene Title: Big Butt Pastry
Storyline: Welcome to Big Butt Pastry with chefs Melissa Lauren and Billy Glide! Together they will show how to bake a big wet butt pastry along with its good ol' homemade cream topping! Deli-fucking-licious!!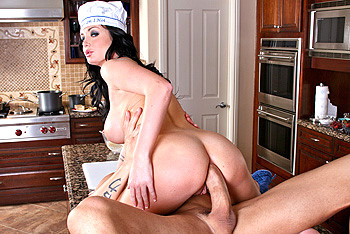 Melissa Lauren BigWetButts HD Video Trailer
What people are saying about: Melissa Lauren - Big Butt Pastry bigwebutts scene
Comment #1
danetown said: melissa is just incredibly hot, the whole eating the cake thing, not my thing but i guess some guys out there like that kinda thing, but another amazing performance for melissa. She's just gorgeus. Does anybody know what the tattoo on her right forearm says? I think it's latin but what does it say exactly? just wondering
Comment #2
BiV_aka_funkdoc said: I wasn't really into this. Some of it had to do with the food, which isn't my thing. And the all anal isn't my thing either. Would have liked to see some vag at least. Melissa is stunning tho and puts on a good performance, so there's something to be said for that.
Comment #3
soldiermc15 said: God damn! I want her to eat my sour cream dipp!!!! lmao!
Comment #4
MissSnoogans! said: I just noticed this but Melissa Lauren resembles Alexis Texas IMO. Unlike the Gina Lynn/Cheyne scene, Gina was doing all kinds of flirting which lead to the sex. This one just came out of nowhere with but flour on my ass. While she is talking about making pound cake. Billy could have been saying shit under his breath like I would like to pound that ass. I love kitchen sex when the use of food is involved. I just had a hard time getting into this scene with the red light/green light efforts of Billy. Always good to see Melissa though. I'm glad that double Z have been showing her more often. The hottest part of the scene was her eating the cake after Billy came on it. Snoogans!
Comment #5
rocc00 said: Melissa Lauren is an all-pro. No doubt about her skillz & beauty. Acting to boot.
Melissa Lauren BigWetButts Picture Gallery