Big Wet Butts presents: Chavon and Larin take a big cock in their asses as payment
Scene Title: Big Wet Carwash
Storyline: Keiran can't believe what he got when he ordered an at home car wash service: two big butted chicks that looked too good to be true. When they were done, he invited them over and offered to polish their big asses with his long rod.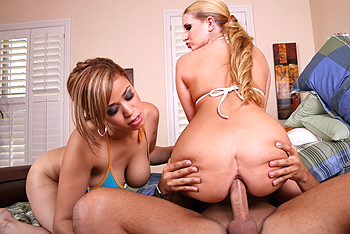 Larin Lane and Chavon Taylor BigWetButts HD Video Trailer
What people are saying about: Larin Lane and Chavon Taylor - Big Wet Carwash bigwebutts scene
Comment #1
BiV_aka_funkdoc said: Again, I'm in the minority cuz I thought the scene was hot. Whenever there are skantily-clad women, soaking wet and bouncing their tits and asses around, it's a winner for me, doesn't much matter who it is. And again, I seem to be one of the only ones who thought Larin was kinda hot. She reminds me of someone I know I guess that may be why. But Larin has to get better on-screen. Chavon held her own and they both took a pounding from Keiran, so respek to the both of them for that. I wouldn't mind seeing Larin again for some 1-1...Chavon too.
Comment #2
MissSnoogans! said: I was actually shocked that Chavon did anal. Not familiar at all with Larin Lane. These chicks have to be some troopers to get with the long cock of Keiran. I've always like Chavon but was never sure why she got so much hate. I didn't like the fact they did the car wash. I still have memories of Carmella, Shyla, and Gianna. I don't think any scene will top that in my books for a three on one. Anyway I wasn't all that into this scene. Neither one of them had a wow factor during it. Easy E once said back up bitch unless you want nut in your eye. Oh Keiran turned into a sniper with white bullet. Snoogans!
Comment #3
harveyh said: I thought the big wet butts video was OK. Definitely not one of the best. Chavon is one of my favorites, so I guess I am biased! I love her natural body, but the chemistry was lacking here, maybe because of Larin? She was so much more into her scene with Gianna. Please bring Chavon back in an anal scene with a much more uninhibited partner
Comment #4
usmcjoe said: Chavon Looks great! Its too bad she lost some of the volume in her boobs. She lost weight, didnt really need too..I thought she was hot! But she got really skinny and too bad she lost some of the cleavage to go along with the weight loss....Still hot chavon!!!!
Comment #5
mikesteed said: Damn Chavon looking good here!!!!! Can't wait
Larin Lane and Chavon Taylor BigWetButts Picture Gallery