Big Wet Butts presents: Two Big asses getting pounded by beefy hard cock
Scene Title: Scott's Big Butt Party
Storyline: Holly and Beverly arrive at Scott's mansion for the big butt party. He brings them inside the house and then makes them do kinky things with their butts, such as doing anal beads tug of war and oiling their asses up and getting fucked hard by his hard cock!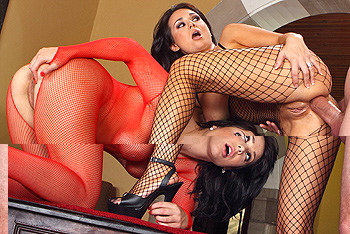 Holly West and Beverly Hills BigWetButts HD Video Trailer
What people are saying about: Holly West and Beverly Hills - Scott's Big Butt Party bigwebutts scene
Comment #1
PabloEscobar said: ONE OF THE BEST SCENES EVER!! very nice and fucking hot chicks.
Comment #2
smutluver said: Now an anal bead tug of war is something I've not seen before - very original. Lovely scenes of two hot girls licking each others assholes too! s
Comment #3
MissSnoogans! said: I liked the beginning of the big wet butts scene. Beverly and Holly stepped out the car like tru gangstas. Hell they didn't even bother to knock like they owned the spot. Holly was off the chain in her black body fishnet. I didn't care much for the red, so I was glad when Beverly got rid of hers. Plus her body is too hot to be hidden like that. The anal bead tug of war was pretty hot. Holly and Bev really complimented each other really well during the scene. Scott took it rather easy on them. Maybe those asses were too tight and he might have came early. I would have to say this is a first for me but the cumshot was the hottest thing. Holly takes in her mouth, face, and boobs. Then Bev licks up the cum and spits it on Holly asshole. Now that's Snoogans!
Comment #4
JJamNeutron1 said: Mmmmm awesome! Two of my favorite dark haired anal lovers in the same scene!!! Mmmmm...now if they can only get Tory Lane & Carmella together! This scene should be fantastic. Holly always delivers & everything I've seen Beverly in has been great too.
Comment #5
mamasita said: What a perfect pairing! Holly West (West Hollywood) and Beverly Hills (self-explanatory). If only they could have been fucked by a guy named Culver City.
Holly West and Beverly Hills BigWetButts Picture Gallery