Big Wet Butts presents: Three of the biggest asses getting pounded hard
Scene Title: Whose Butt Is It Anyway?
Storyline: Welcome to Brazzers' Whose Butt Is It Anyway, the show where two contestants are given a challenge: If they can guess whose butt is it anyway?, they get to fuck it. Our lucky contestants are Derrick Pierce and Chris Cannon, they go through a bunch of rounds trying to guess Chaynne, Devon and Flower's asses. They grab 'em, rub 'em, squeeze 'em and in the end they fuck the hell out of those tight big wet butts.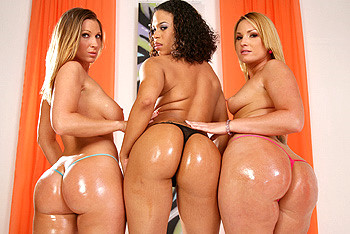 Flower Tucci, Devon Lee and Chyanne Jacobs BigWetButts HD Video Trailer
What people are saying about: Flower Tucci, Devon Lee and Chyanne Jacobs - Whose Butt Is It Anyway? bigwebutts scene
Comment #1
gianil3 said: 10 for anal ,10 for model,6 for scene ratings.more detail present model in anal scene. tanks
Comment #2
BiV_aka_funkdoc said: I'm not big into the whole anal gonzo thing. I'm not a fan of Flower. From the trailer, Chyanne piqued my interest, but I only really watched this for the ever-so-sultry Devon Lee. I was disappointed that she was outshined by the other 2 girls. This was average at best for my tastes cuz it's not really my thing, but I would like to see Chyanne in the future in a solo scene.
Comment #3
robb201 said: I have to agree with some of the other members. Chyanne didn't belong in this scene. Flower and Devon would make a very good big wet butts scene together, hopefully we'll see it. For this scene, I understand 3 girls were necessary. I would have put someone else in the scene to replace Chyanne. Chyanne did a good job, I'm just not attracted to her. I think you could have found other girls that would have done a better job. Brianna Love would have been an interesting addition to the Flower/Devon pair. The face sitting wasn't as good as I was hoping. The guys should need a snorkel kit when the face sitting occurs, because they're going to go diving in there and only come up when they need air. Didn't see that like we saw in the Alexis Texas/Brianna Love BWB scene. I love the squirting, but yet again you didn't get close enough to Flower when she was squirting. Let her drench the camera. I want to see a good shot of her squirting, didn't see it in this scene. Devon is hot, but the only problem I've had with her lately is she's seemed quiet in her last couple scenes. When I was able to hear her in this scene (which wasn't that often) she was quickly drowned out by the other two girls. She's gotta be more vocal. The sex wasn't the best, average in my opinion. The overall scenario, was fun, but didn't had much creativity put into it, it's obvious. One things for sure, it wasn't a great scene for a porn shoot, but it is a game I'd like to play at a party, lol. Especially if Flower and Devon are a part of it. Overall, an alright scene. I just prefer to see Flower and Devon is good scripted scenarios when they appear on Brazzers, since we don't get to see them on Brazzers that often. 8/10.
Comment #4
aceinthehole69 said: i dont know what everyone is talking about. Chyanne was hott as fuck in this scene. She's one of the best in the business
Comment #5
katie11 said: FLOWER YOU ARE A HOT PERFORMER AND I LOVE YOUR DESIRE TO FUCK. DEVON YOU LOOK HOTTER/SWEETER AS YOU AGE AND BOTH OF YOU GIRLS YOU LOOK FANTASTIC!! YOU TWO MAKE A GREAT COMBO AND I WOULD LOVE TO SEE KERIAN, JOHNNY, RAMON, OR BEN HAVE A SHOT AT BOTH OF YOU!!!
Flower Tucci, Devon Lee and Chyanne Jacobs BigWetButts Picture Gallery