Big Wet Butts presents: Bootilicous Pornstar getting fucked hard in her ass
Scene Title: Running down some Ass!
Storyline: Felony is a very fit young woman with a big firm butt, and enjoys to jog everyday to keep it that way. One person who can appreciate this effort is Cheyne, who secretly follows her everyday to get a good look at those big round ass cheeks. He finally finds the courage to jog with her and compliment her on her amazing butt. She is flattered as she brings him home for a nice post workout!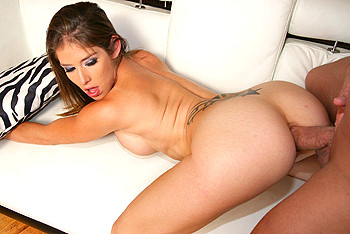 Felony BigWetButts HD Video Trailer
What people are saying about: Felony - Running down some Ass! bigwebutts scene
Comment #1
jegr2992 said: That is one felony I would love to be charged with.
Comment #2
robb201 said: I agree with many of the other members, Felony is not the hottest but she does have a great ass for her size and usually puts in a good effort in her scenes. This scene however was pretty boring to me. The shitty editing didn't help either. Overall, it was alright and appreciate the anal from Felony, but this was not her best scene. 7/10.
Comment #3
fernandobarca said: I'll have to agree with some of the comments that she may not be one of the hottest girls but she's definitely a top performer. Her scene has a lot of passion and she makes it look like she's actually enjoying what she's doing instead of just acting it. Her starfish is just incredible, the 'silver dollars' are phenomenal. Hope to see more from her soon. Next time make sure they can get a decent towel for the scene cause that bleached towel looked shitty in a nice place like that.
Comment #4
katie11 said: felony i know how you got your name. it should be a felony or crime to see you fuck in a scene without reverse cowgirl because you have an amazing body and some of the hottest tits in porn. you fucked the hell out of cheyene, provided great dick sucking, awesome a2m, fucked like a veteran (intensity/passion), and provided a scorching hot facial. not only that but after the facial (money shot) you provided some nice outstanding cleanup of cheyene's dick (scorching hot). kudoz to you gilr for an amazing scene and you fucked with so much passion. you have an amazing body and whatever you do make sure every big wet butts scene you are in has a reverse cowgirl fucking position to showcase some of the hottest tits in porn. i blasted you for dodging johnny's cum in your last scene but you definitely made up for it in this one. cheyene a very solid performance from you. brazzers it's a felony if we don't get more felony scenes because this girl rocks!!!!
Comment #5
MissSnoogans! said: Don't call it a come back. Nice work Cheyne. Some can say she has a stupid name. I say it fits for the crime of passion that happens when she on camera. I have yet to see a scene that she doesn't put forth her best efforts. Really nice ass on her for her size. The whole getting hurt while running is just as bad as the pool boy scene anymore. Felony is what ZZ needs. I don't care if she's not the hottest. Its all about what you do when the camera is rolling. She made Cheyne look good, nuff said. Snoogans!
Felony BigWetButts Picture Gallery