Big Wet Butts presents: Cody Lane with her big juicy ass getting slammed hard
Scene Title: Pounded hard again...
Storyline: Look who's back!! Super sexy Cody Lane is here again for some hard oily action. This girl's body is out of this world and that ass!! Man, that ass is simply perfect!!! So we paired her up with Jordan and this guy really gave her a good pounding. He fucked that shit good and made her cum many times during the scene. A must see!!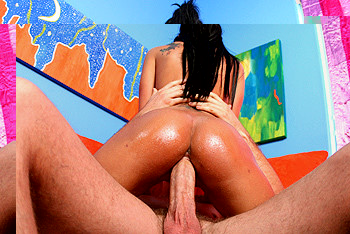 Cody Lane BigWetButts HD Video Trailer
What people are saying about: Cody Lane - Pounded hard again... bigwebutts scene
Comment #1
robb20 said: Any scene with Cody Lane is a good scene. I love anal too, and it would have been nice to see it, but I don't have to see it in every scene. Personally, I'd rather not see just one or ther other, I'd like to see a bit of both if the girl in the scene does both. One problem I have with Cody is her bobo job, I never noticed the scars before, I'm not sure if she just had more work done on them or not? But if she did, Cody please don't touch your body. You were perfect. Her tits look bigger to me and I'm assuming she had work done on them which is why we haven't seen much of her lately. All in all it was a decent scene, 8/10. If you want anal scenes you gotta bring Flower Tucci and Julia Bond back to this site. Those are two of the top anal performers in the business!
Comment #2
Huxley said: sloppiest deepthroating I've seen in a long time, very nice. I liked this scene myself. Cody is definitely smokin' though she could do something about those crappy implants.
Comment #3
brazzer_sammy1 said: Guys sorry about this, Cody is not doing anal, but we will work something out with her in the near future. There are many hot big butt models that do not do anal or have stopped, many of you guys keep asking for them on BWB so were trying to please everyone.
Comment #4
bediscream said: god...what's the fascination with anal sex? it's all you get on most new movies and sites now. it's an "exit only"...i don't care what anyone says.
Comment #5
MissSnoogans! said: Thank you Lordwaffl3 for telling arco66 how it is. After knowing on June 8th is got fucked in the ass. This was a total letdown. Cody is hot that goes without saying. I was hoping for some anal on my Friday. Snoogans!
Cody Lane BigWetButts Picture Gallery