Big Wet Butts presents: Sexy Ass Girl gets her asshole ripped hard by a massive young cock
Scene Title: All Oiled Up & Nowhere To Go
Storyline: We have had Angel Dark on BWB three times now and she seems to never let down. I mean how could you when you have perfect tits , ass and an adorable face. It seems every time she has a scene she gets hotter and hotter. This is for sure not an update to miss. So tune into this anal festival with this pristine European model.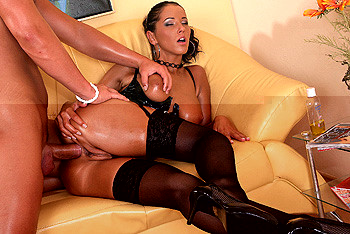 Angel Dark BigWetButts HD Video Trailer
What people are saying about: Angel Dark - All Oiled Up & Nowhere To Go bigwebutts scene
Comment #1
Gerry7 said: Her Ass is so damn hot...........
Comment #2
franckmig said: One of the best scene; too sad the male porn actor didn't make more of it
Comment #3
graham12 said: I think Angel looked fabulous in this big wet butts scene. She is so fucking dirty. Wish someone would teach her to talk dirty. She would be the perfect package.
Comment #4
MissSnoogans! said: I don't mind her doing her thing towards the camera before the guy but at least have a toy. She was already oiled up and no toy. Then after he got there it was more foreplay on top of what she had already done. I do know she took a pounding in her ass and pussy. I liked how he would trade back and forth. The trailer made this scene look like a thing of beauty. Her tan wasn't even close to bothering(since I've looked at Hulk Hogans for years)like the disappointment I got from watching this scene. I thought I was going to get more from her than I did. Her outfit was misleading. 1 dried up puss, Snoogans!
Comment #5
whitey19 said: Angel is the ultimate anal queen. What beautiful ass and legs! never get tirerd of jerking off to angel.
Angel Dark BigWetButts Picture Gallery