Big Wet Butts presents: Big butt getting lubbed up before getting fucked in her ass by hard cock
Scene Title: Anal the Euro way!
Storyline: Once again we feature one of the most sexiest big booty models in Europe! Sandra DeMarco in typical fashion gave us a great hardcore anal scene! Got that ass glistening with oil and proceeded to give her tight asshole a good old fashion stretching..ripping may be more approriate! Enjoy!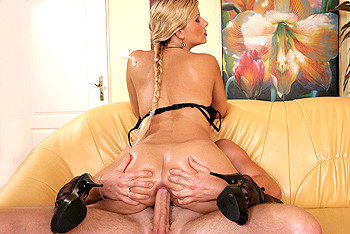 Sandra De Marco BigWetButts HD Video Trailer
What people are saying about: Sandra De Marco - Anal the Euro way! bigwebutts scene
Comment #1
CougarHunter said: sandra is awesome but the guy is shit
Comment #2
ongrun01 said: she looks fantastic, and how she took that dildo up her ass was great. But what the hell was wrong with the guy, is he actually into women??? I mean having a hot chick like Sandra in front of you, getting to fuck her in the ass and having a problem keeping your cock hard???? -come on!
Comment #3
MissSnoogans! said: What happen to all the Euro chicks that are hot and naughty? This was Euro trash. Stop with the married couples already. Give vipernazi a try out. He can't be much worse. Now I see why I waited so long to watch this shit. Now I need my 47 minutes back in my life. Snoogans!
Comment #4
douche1 said: Bring on devon lee
Comment #5
vipernazi1 said: i can fuck better than this guy
Sandra De Marco BigWetButts Picture Gallery